Exclusive 8-Day Photo Tour to Kenya
(February 3-10, 2024 (fully booked), new dates will follow) 
Would you like to photograph wildlife in a phenomenal place and learn more about it? Together with photographer Evert Doorn I am organizing another wonderful guided photo trip to Kenya in collaboration with WOW Safaris: 6 days of shooting in one of the most fantastic places on earth.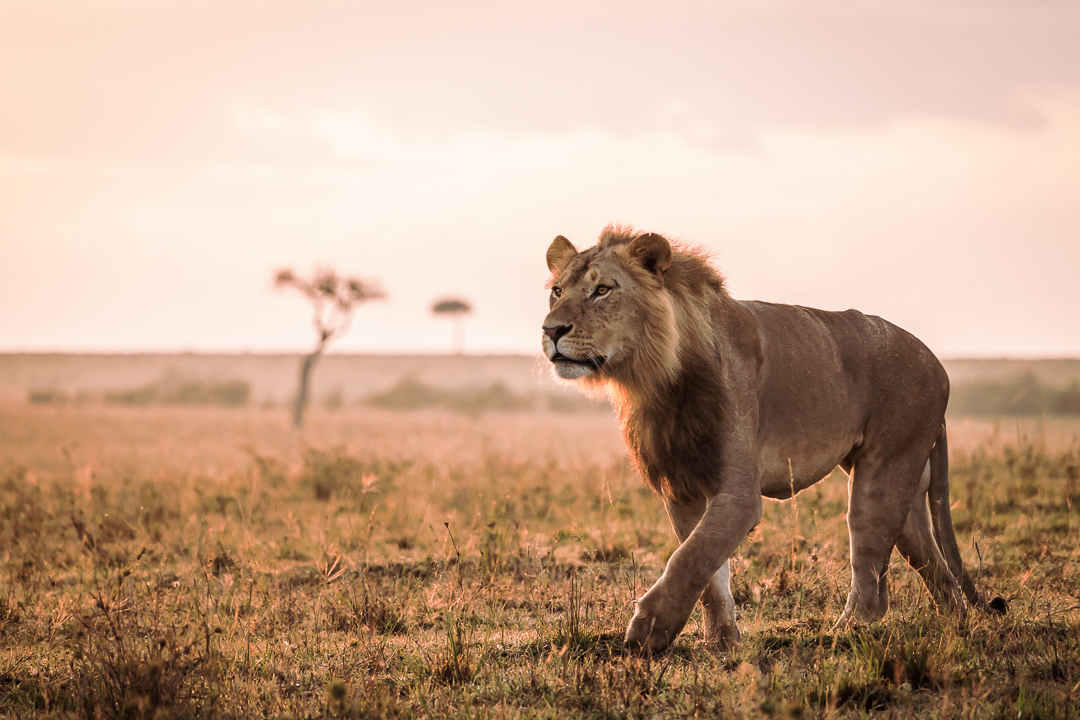 The Masai Mara
The landscape of the Masai Mara is like many people imagine Africa: vast grasslands with the occasional tree, usually an acacia. This iconic reserve, located in the south west of the country, is set at an altitude of 1500 to 2100 meters. It is intersected by two major rivers, the Talek and the Mara. It is part of the Serengeti eco-system, which being over 30,000 square kilometers is one of the largest nature reserves in Africa.
Animals
The three big cats (lion, leopard and cheetah) are everyone's favourite and often seen but of course many other animals can be found such as elephants, giraffes, many bird species, other predators such as hyenas and jackals, various types of antelopes and gazelles and even black rhino.
November to February is less busy than the high season and therefore ideal for photography. The typical and very recognizable open savanna landscape (with gently sloping hills and the occasional acacia tree) in the Mara offers great opportunities to take sunset and silhouette shots.
Guides
On this trip two highly specialized and experienced guides will take us on the journey of a lifetime: a safari! The focus is the game drives in our semi-open Landcruisers but optional guided bush walks, a visit to a local Masai village or even a hot air balloon ride can also be part of your experience. This is the perfect opportunity for exciting encounters and great photography!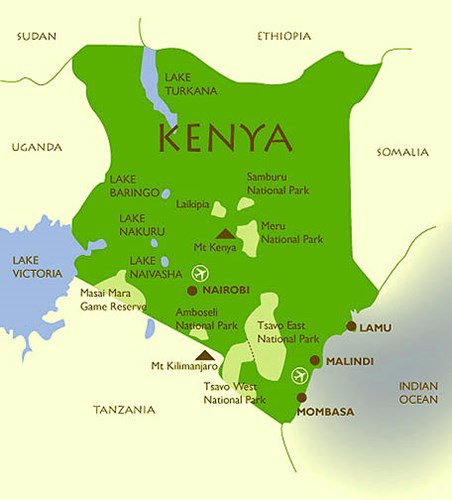 Nairobi National Park
But before we go to the Masai Mara, we first visit Nairobi National Park for half a day. Nairobi is the only city in the world that actually has a park adjacent to it. Open grassland with the Nairobi skyline in the background, very special! The park is best known for the black rhinoceros and its lions, but there are also leopards, cheetahs, hyenas, buffaloes and many giraffes. A very nice way to acclimatize in Africa and make your first game drive!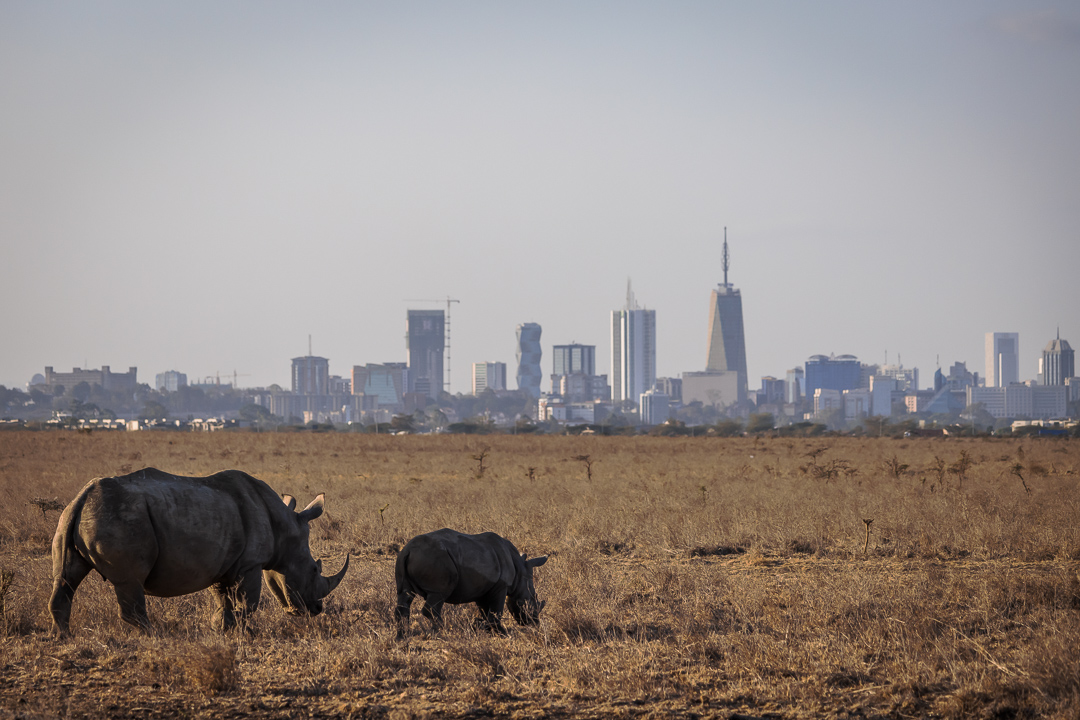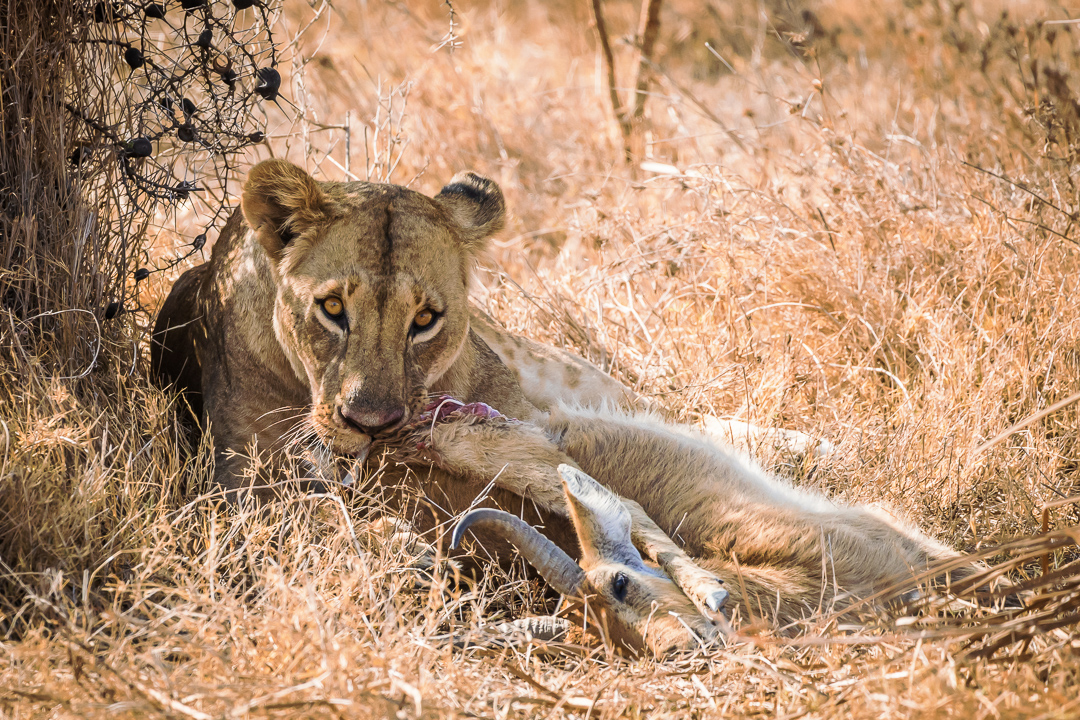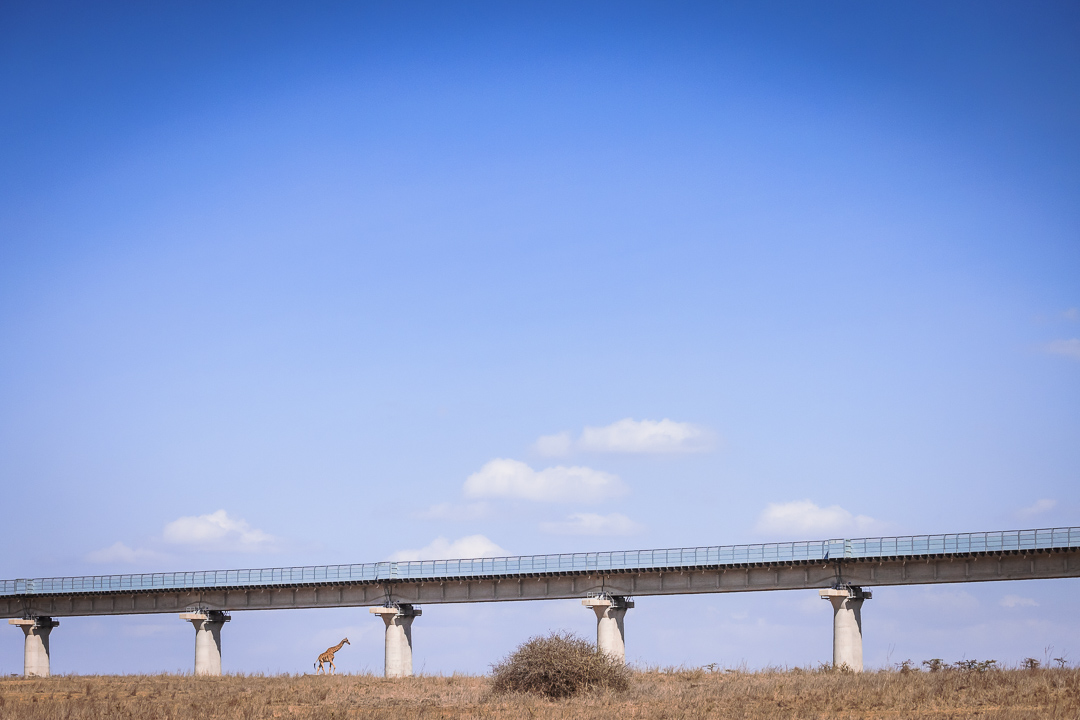 Who is welcome
This trip is for anyone who loves nature, enjoys taking pictures and has the patience to observe quietly and wait for that one great moment! Although it is a photo tour, you really don't have to be a professional photographer or a very experienced safari traveller.
We simply want you to fully enjoy all that Africa has to offer. And we want to give you plenty of opportunities to take great photos, at any level. Photographing wildlife sometimes requires some different skills than what you may be used to, but we can definitely help you with that.
Do realize though that Kenya is not a European country. There are not always toilets nearby, there is not always electricity and the food is sometimes different than you are used to (with a lot of Indian influences!).
There is only room for 6 people per trip, so don't wait too long – this is really a great offer for a super cool and exclusive safari!
"This really is a very nice trip where everything is arranged to enable you to take pictures that you always wanted to take but perhaps thought you could never do as an amateur". (Maarten Koek – Van Maris)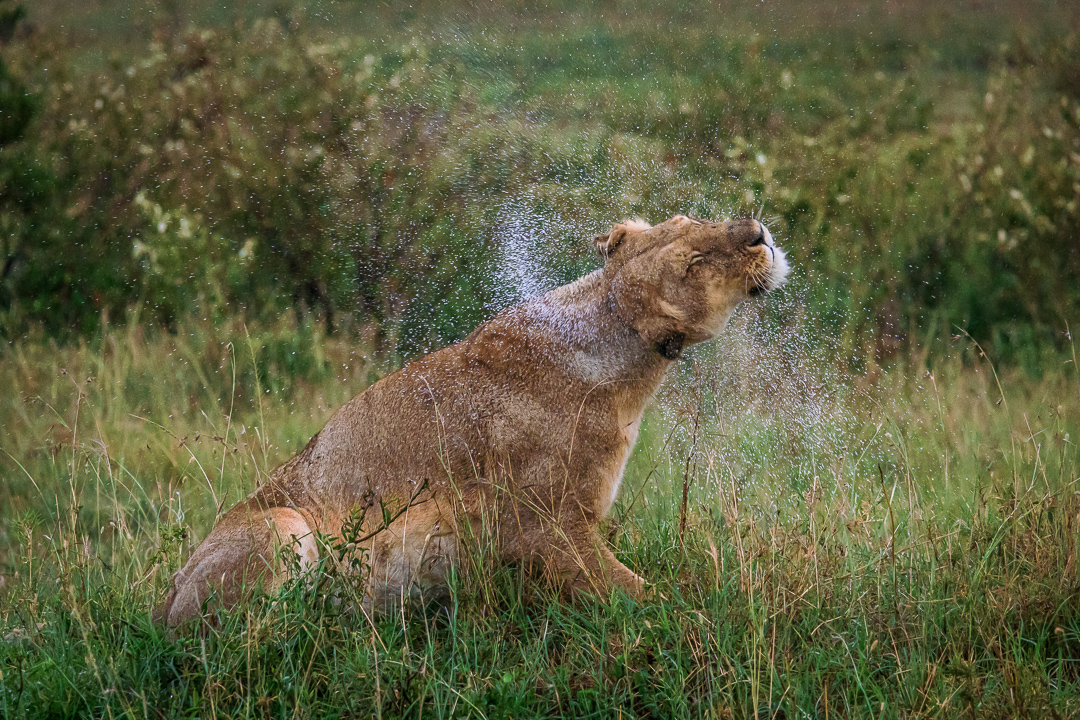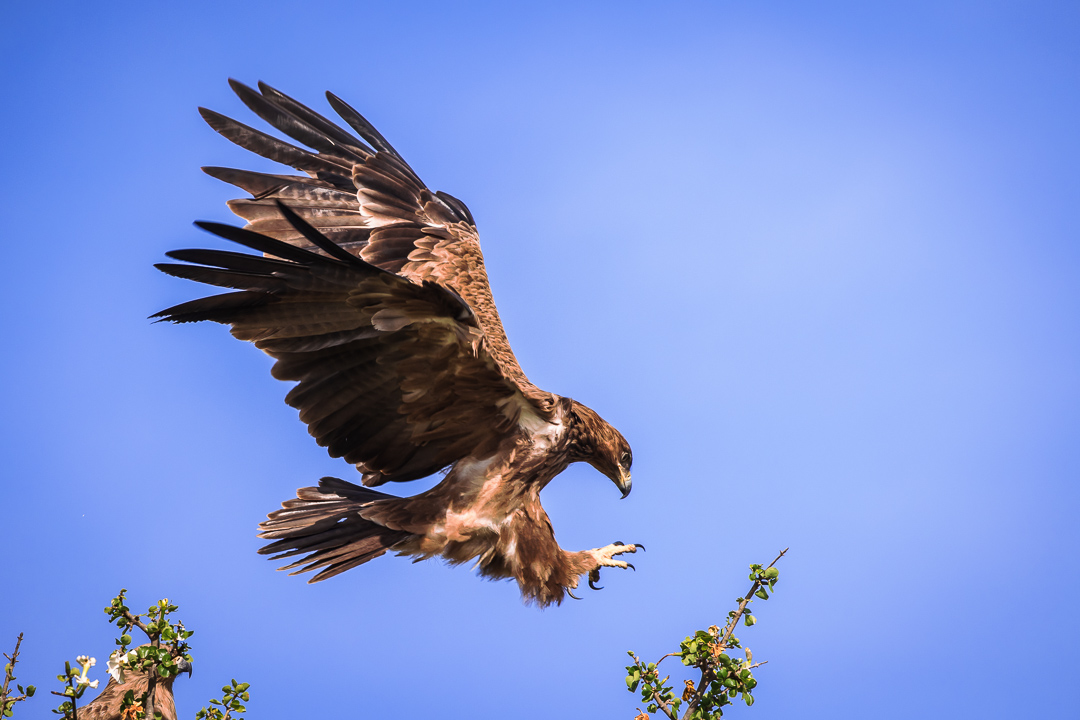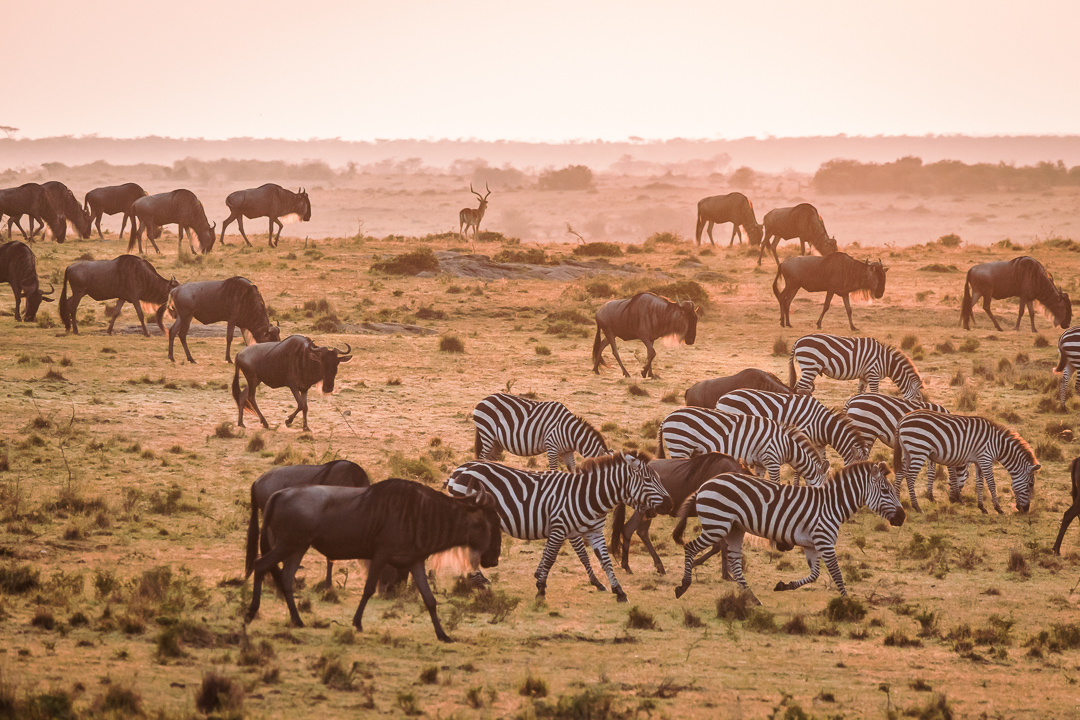 a selection of my 'best of' images, mostly from Kenya
Details
Overnight stays
The first two nights you'll sleep in the Progressive Park Hotel in the capital Nairobi. Early next morning we'll meet our guides  and make a game drive in Nairobi National Park. The next day we'll start early with the 4 to 5 hour drive to the Masaai Mara where we should arrive around lunchtime.
We stay in a small-scale camp on the outskirts of Mara: Mara Simba Lodge. The accommodation consists of luxury tents on a platform, each with their own ensuite bathroom. You have your own shower, toilet and sink. The tents have electricity and are equipped with comfortable beds.
Sleeping in a tent may sound a bit adventurous, but the animals absolutely respect it. And it's great to listen in your bed at night to the sound of the cicadas and a hyena in the distance!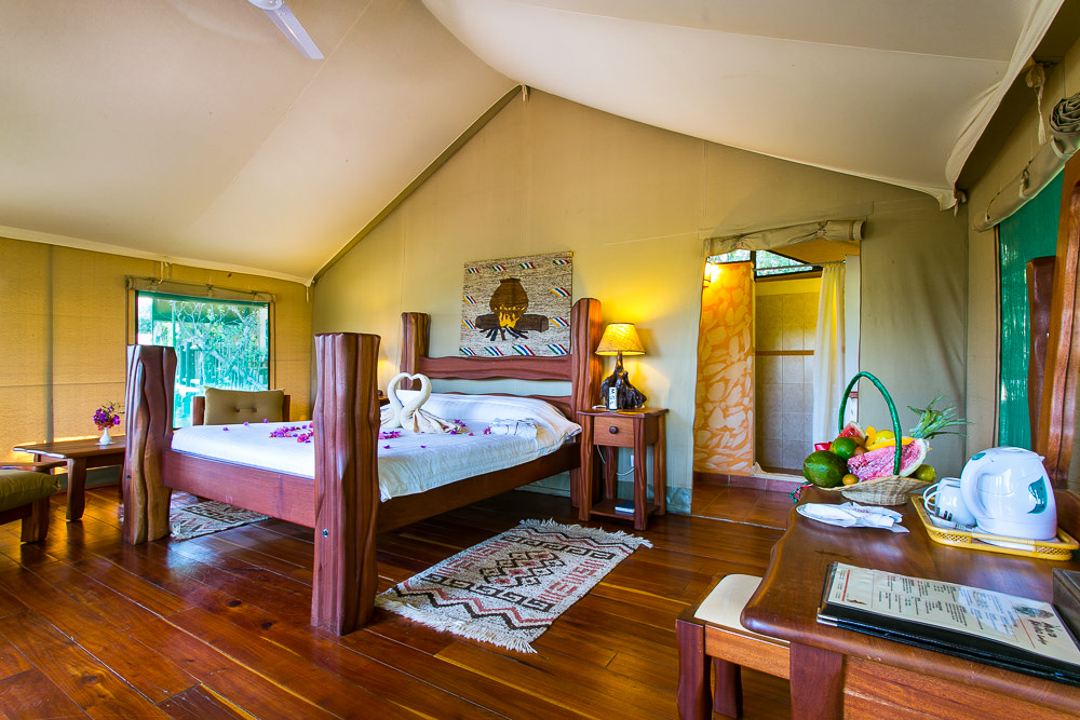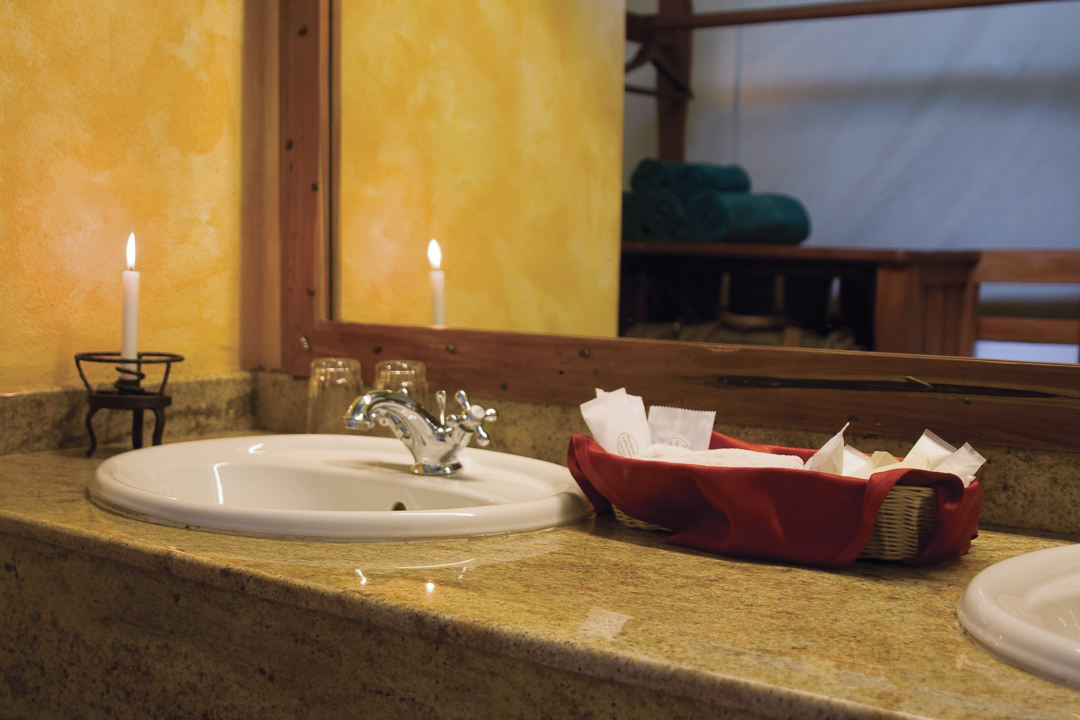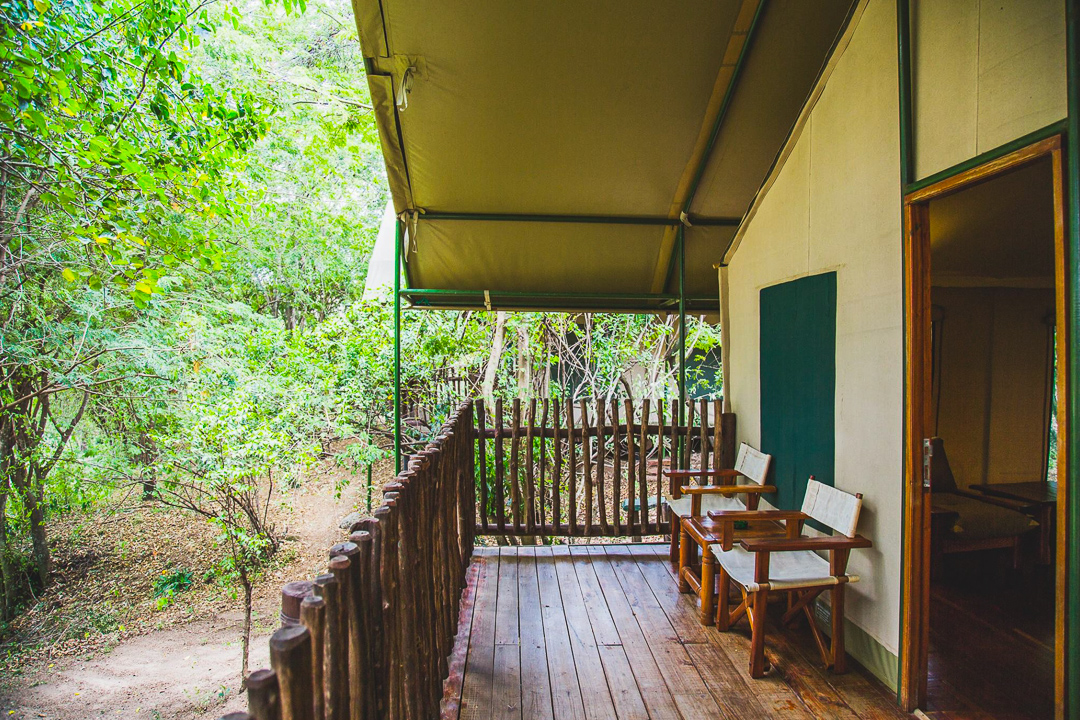 The camp also has lounge areas, a swimming pool, a bar and there is wifi. It is run by local Masai and the food is delicious. Of course, not everything is possible in terms of dietery requirements so far away from an urban environment, but vegetarian or lactose-free food is no problem. And the beer is always cold!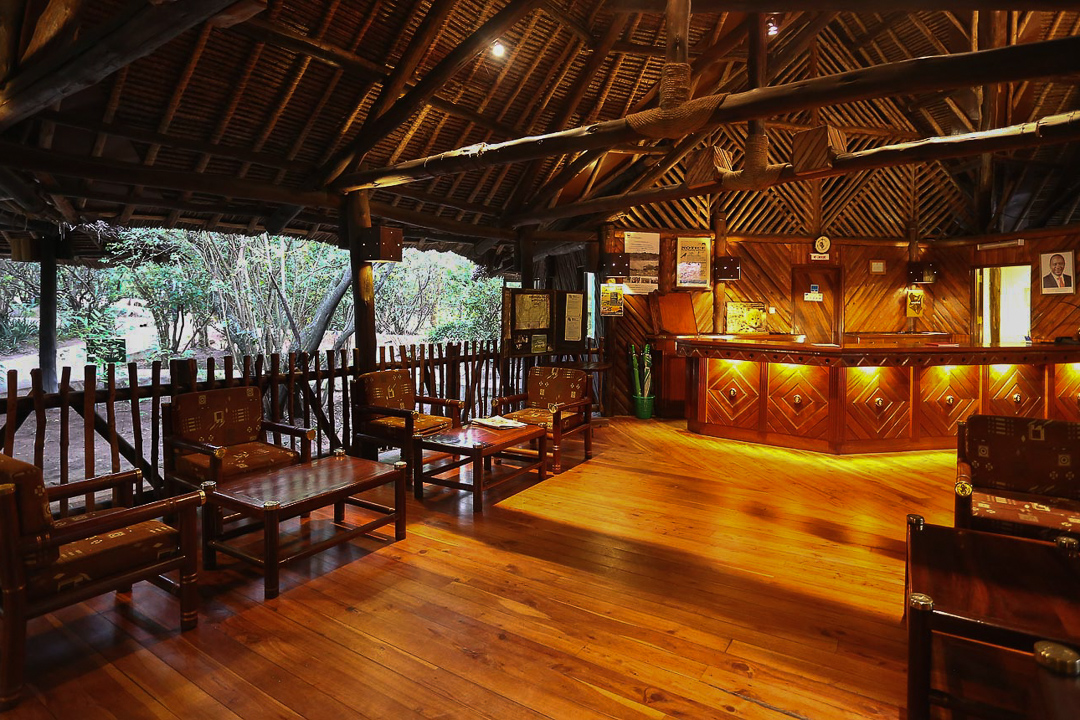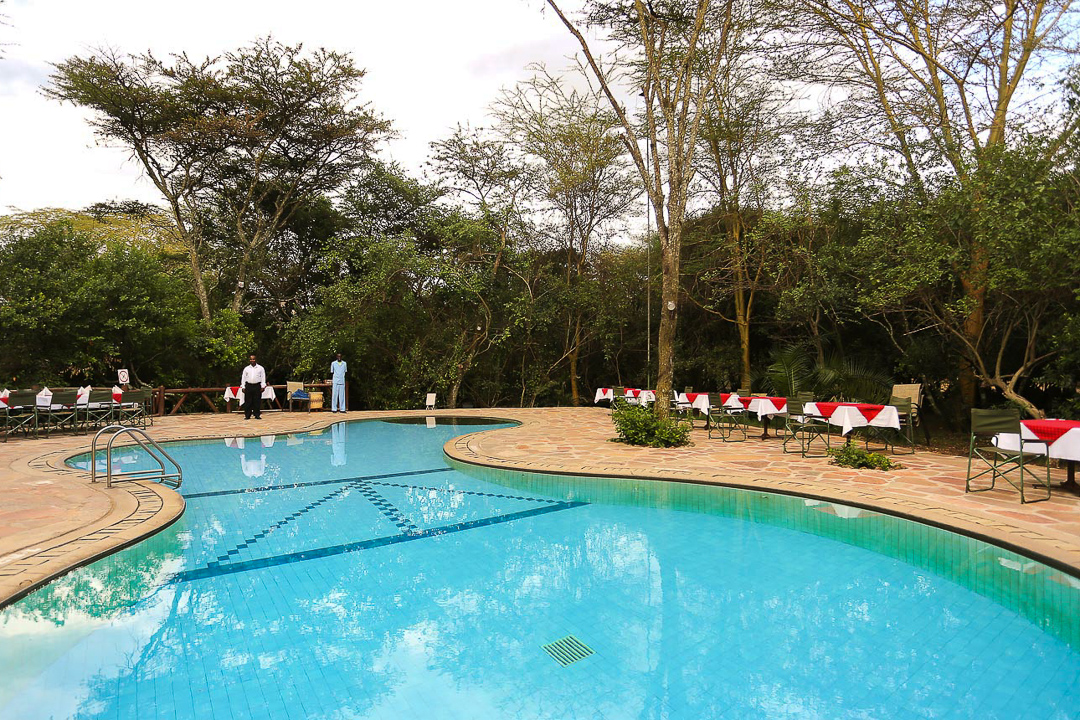 Our safari vehicles
We go out on a drive in the reserve daily. We use semi-open 4×4 safari Landcruisers: the perfect way to see animals and take pictures!
Six clients normally fit in such a vehicle, but because we want to give you the best opportunity to take beautiful pictures, we will never be in the car with more than three clients (we will sit in the front seat next to our guide – in the back there's three rows of seats, so a full row available to every guest). This way, everyone has enough space for their camera equipment and you can easily shoot from both sides of the car. In addition, the roof can also be opened, so you can also photograph from a higher vantage point (ideal when the grass is a bit higher).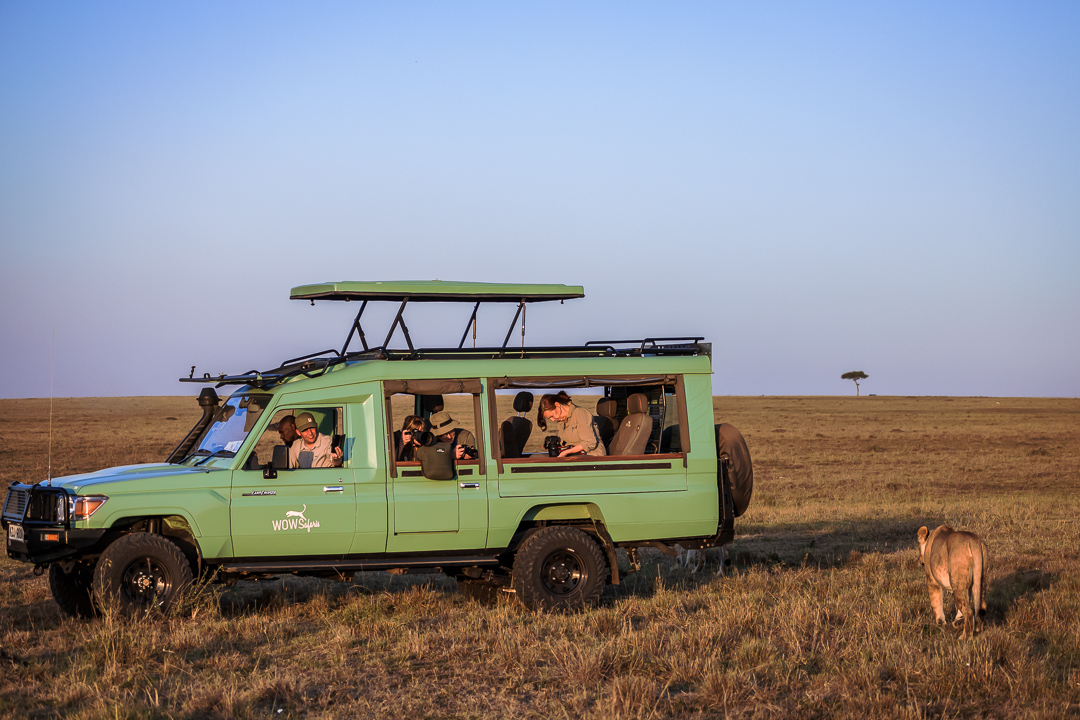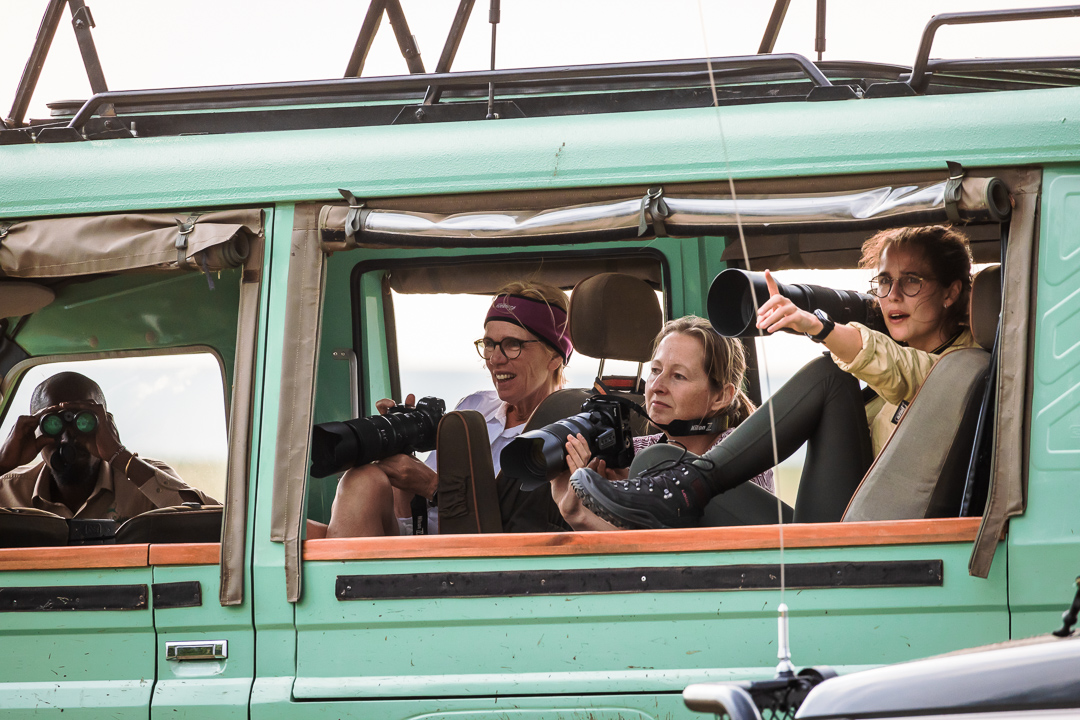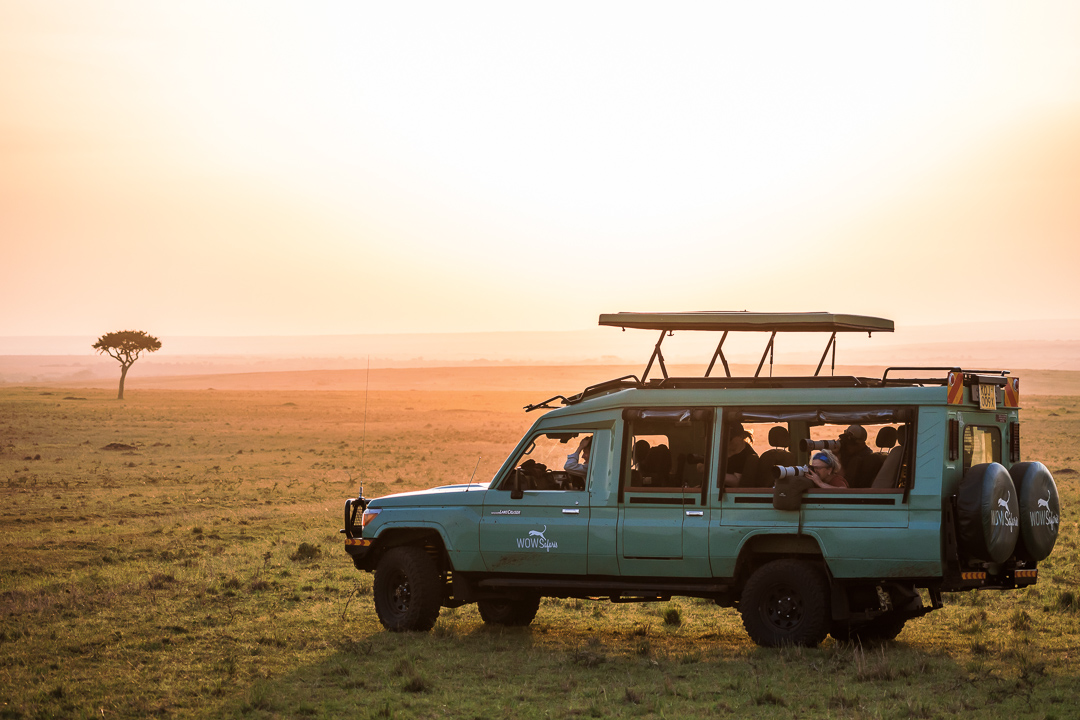 Your guides and tour hosts
Two experienced guides will accompany you from WOW Safaris who will drive the cars, manage the communication via radio and telephone (with which we are in contact with other cars in the area) and who have the final responsibility. They are guides who are also used to working with (professional) photographers or film crews, which means that they know how to position the car ideally for photography and how you can play with the light as a photographer or videographer. And of course, they are know everything about animal behaviour and their movements.
In addition, we will accompany you as a photographer. That means we can teach you a lot about wildlife photography. Think of the right camera settings (which are very different for wildlife than, for example, portrait photography or weddings), how you can make optimal use of the light, and how you can create creative wildlife images with special techniques. We do this during the drives, but also in camp where we can help you with tips for selecting or post-processing your photos in Lightroom.
Evert Doorn
Evert did an overland trip of seven months from the UK to Cape Stap almost twenty years ago with his wife Dieuwke. After that he returned many times to Africa. He learned a lot from various, very experienced wildlife photographers. He has photographed in South Africa, Botswana, Zambia, India and especially Kenya and hosted several photosafaris in Kenya. The big cats are definitely his favorite, but he also finds the small animals and landscapes interesting. In the Netherlands he has been a professional photographer for weddings and business assignments for many years. He is also a photography teacher at the Gooische Fotoschool. You can find his current wildlife work on Instagram: @thewildsite
Simone Janssen
I have worked as a (camping) tour guide in Southern Africa from 2004 to 2007. During that period I did a full-time one month course at Eco Training to learn more about the bush: its animals, trees, tracks and everything else that is part of the great African circle of life. Now I have already hosted several photosafaris in Kenya and South Africa. In addition, I have worked as a trainer and coach for seven years in the Netherlands. Back home, I am a very experienced professional photographer, especially for weddings, but as soon as I have the opportunity, I will travel to Africa again! My work can be found on Instagram: @simone_afrika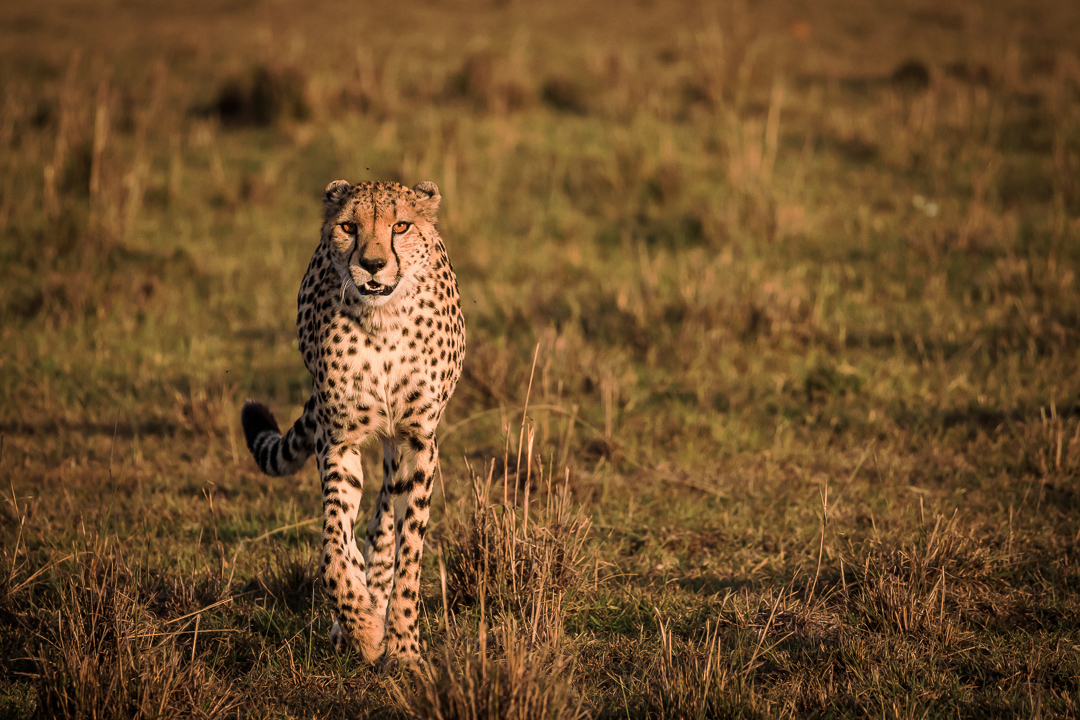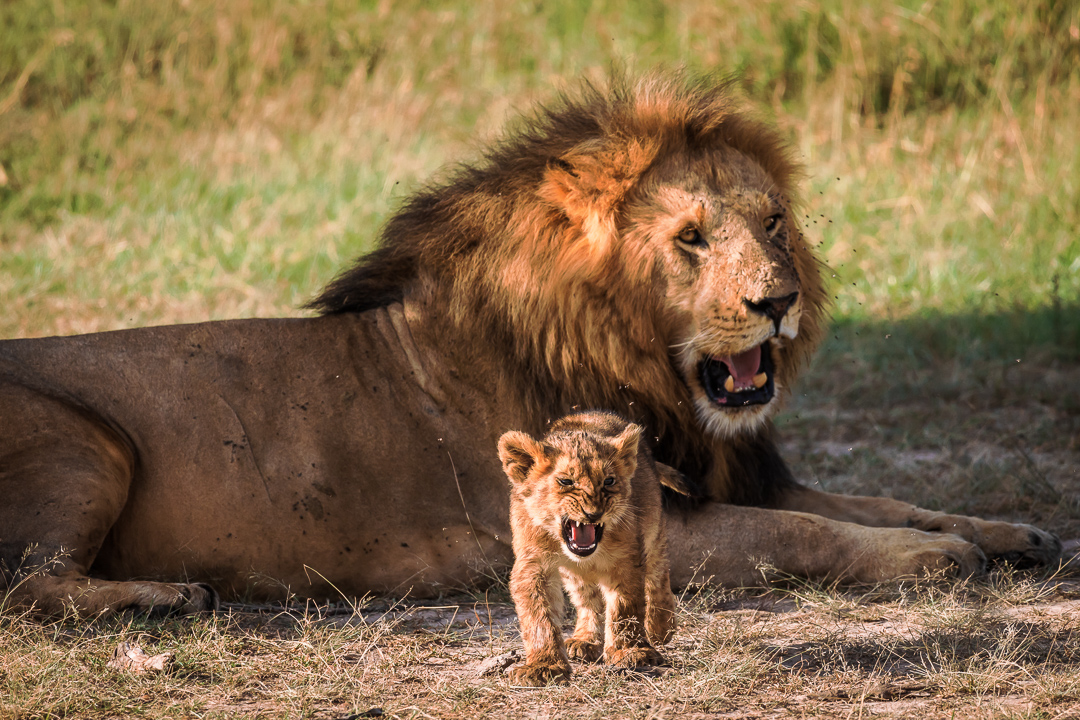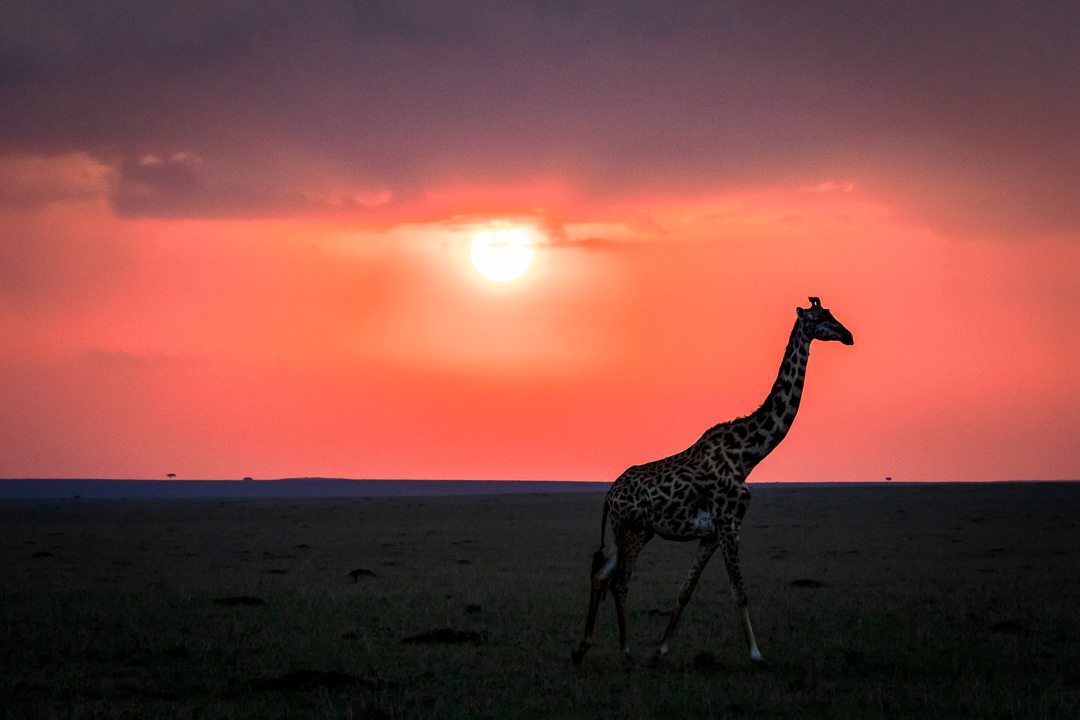 Equipment
It is recommended that you bring a camera that you are familiar with. If you have a second camera, be sure to take it with you as a backup or to quickly change swap to another lens. We recommend a wide-angle lens to take beautiful landscape photos and a telephoto (zoom) lens to bring animals closer. Think of a lens that can go up to 400, 500 or even 600 mm. Bean bags to support your lens are provided in the cars. An extender is certainly useful, although you will probably want to remove it in the evening to make your lens a bit brighter. Renting equipment is also an option! If you are not sure about your gear, please contact us.
Also remember to bring enough storage with you, also to make a backup if necessary. A laptop or many memory cards are not a superfluous luxury!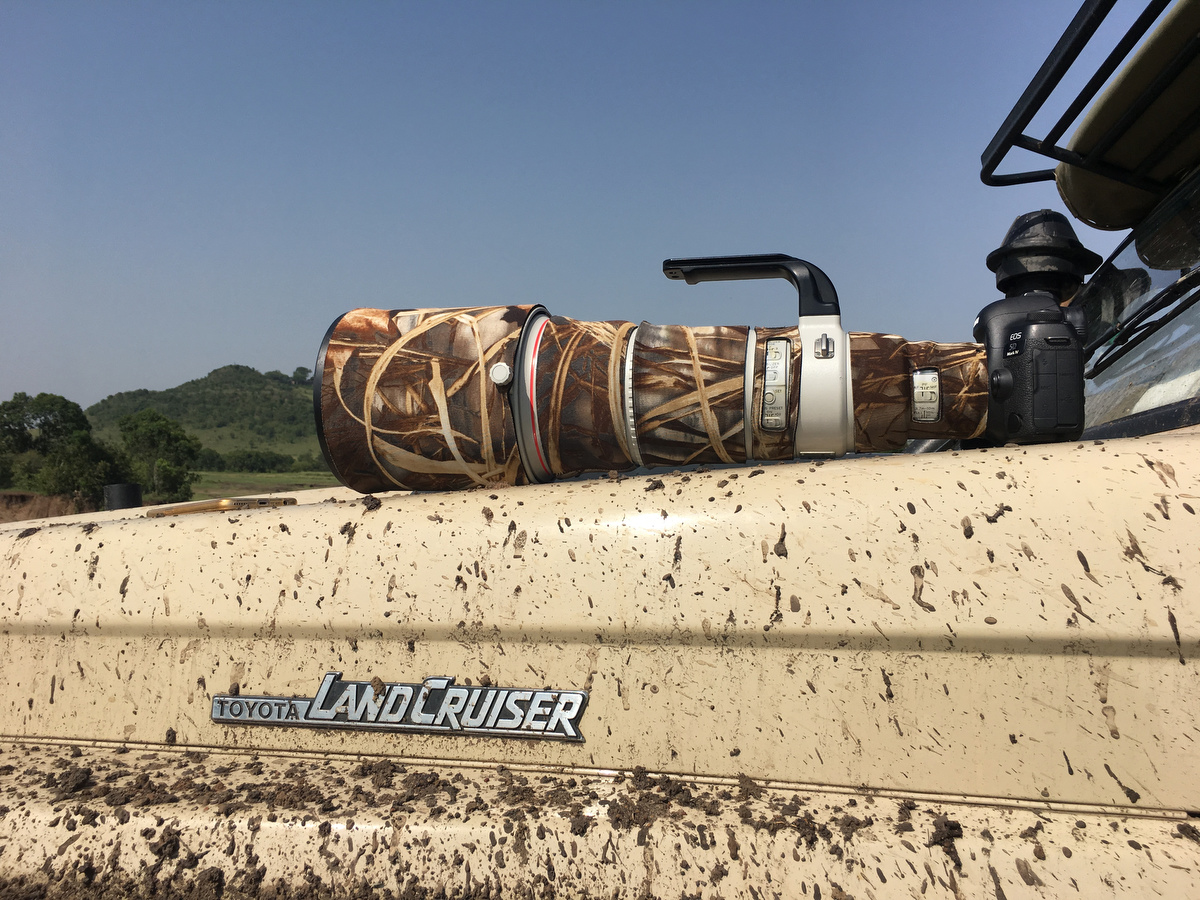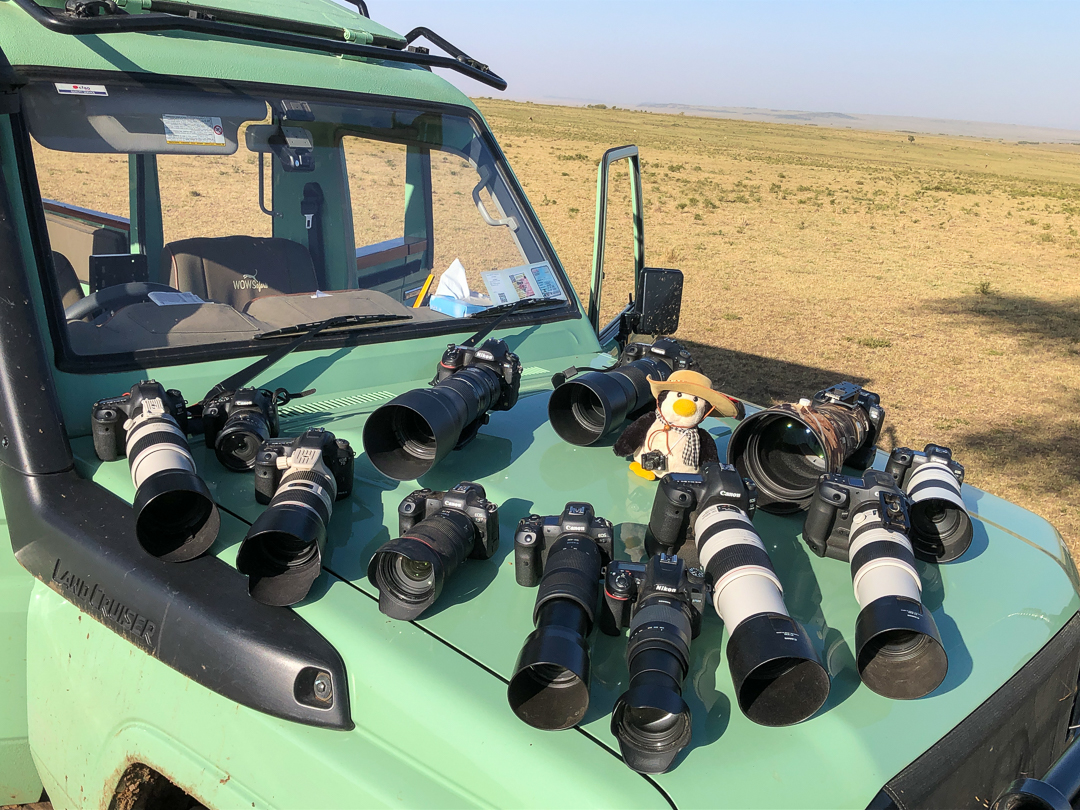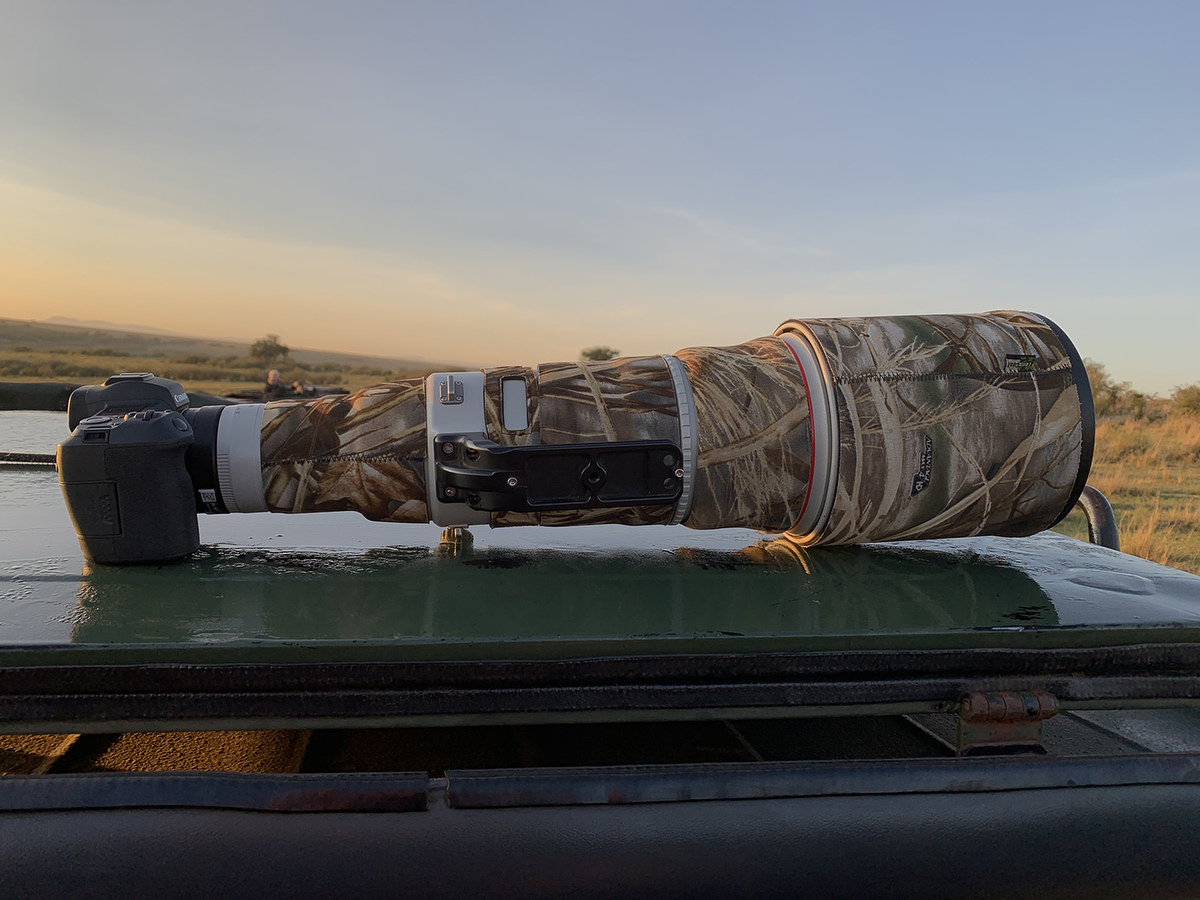 Extras
We offer this photo tour with two overnight stays in Nairobi (most flights from abroad arrive late at night), transfer from the airport to the hotel and transfer forth and back to the Masai Mara. If you want to extend your holiday with a visit to one of the other reserves in Kenya, a stay on the coast, or if you want to fly on to Southern Africa, that is of course possible. We have contacts in both Kenya and Southern Africa who can help you with this, but of course you can also make further arrangements yourself.
What does a safari day look like?
We almost always set off early, just before sunrise. This way we know for sure that we can shoot in the best light! The days will not always be the same. Sometimes we'll leave early, pack breakfast and stay out until lunchtime. And then we go back into the park at the end of the afternoon. But it is also possible to go shooting for a full day, with breakfast and lunch on the way. We will then be back in camp just after sunset. We look at this on the spot, depending on where the game is at that moment and everyone's wishes.
And do you want to do nothing for (a part of) the day and read a book by the pool or work on your photos? Of course you can!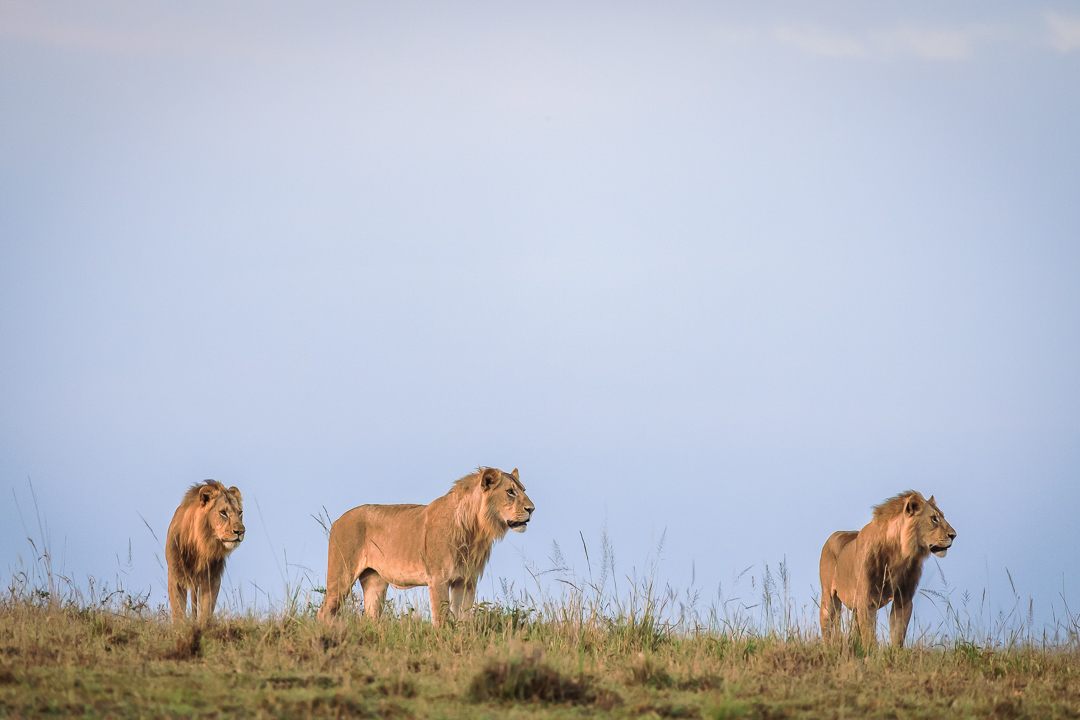 Why is this specifically a photo tour?
we have plenty of space in the cars, nobody has to sit in the middle
the local guides also photograph or film hemselves and can therefore help us find the right angle or the best light – and of course they are very knowledgeable about the animals and their behavior
as wildlife photographers we can help you take the best photo (and also tell you something about most animals)
there is no rush to find the next animal and check off a list; we take pictures as long as we want and no one asks 'are you ready yet?' – you're with like-minded people!
back at camp there is plenty of time to view and edit photos, learn from each other and talk about photography for hours!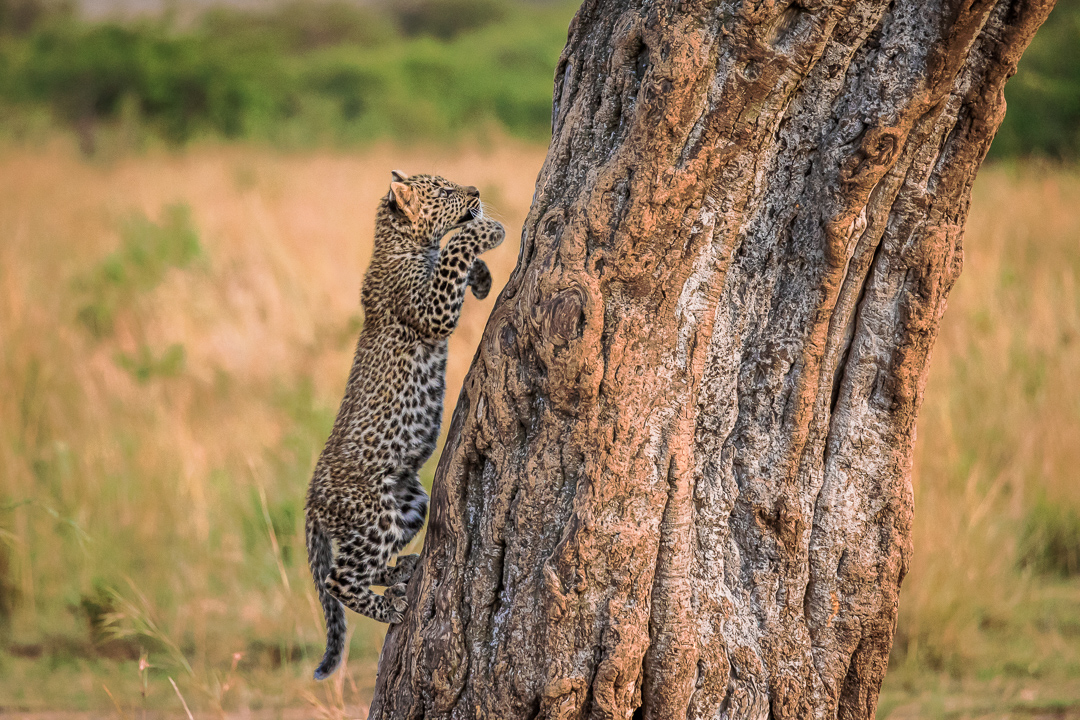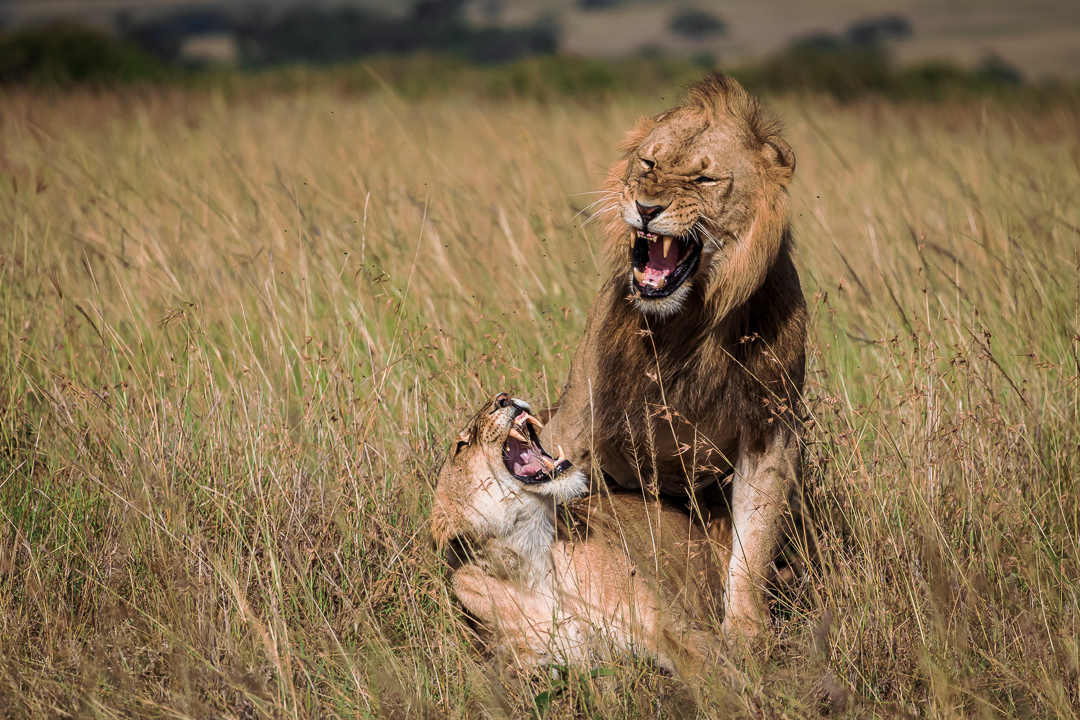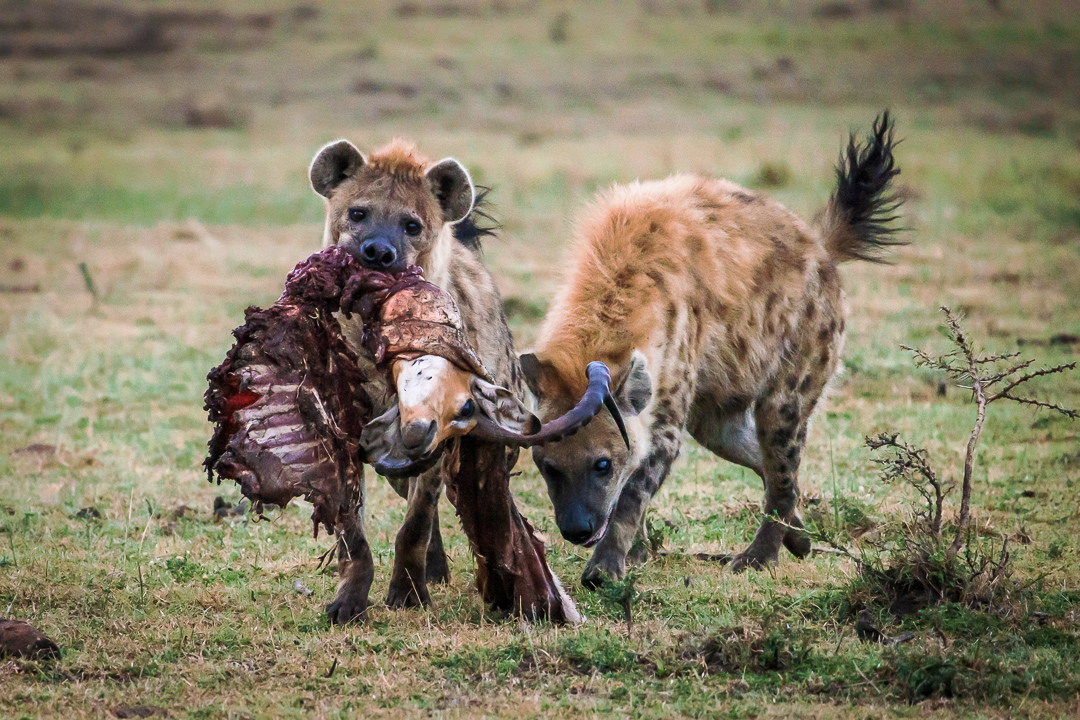 The practical stuff
Travel dates: February 3-10, 2024 (fully booked), new dates will follow
Cost: USD 2650 per person
The total costs are based on a double tent, with a 30% deposit at the time of booking. Would you rather not share a tent? That is of course also possible. A single supplement for your private tent will cost USD 400 extra. The payment and price is in US dollars because you book directly with WOW safaris which is located in Kenya.
Program:
Day 1: arrival in Nairobi at the Progressive Park Hotel, first meeting
Day 2: meet and greet with our guides and half day game drive in Nairobi National Park, afternoon off
Day 3: early transfer from Nairobi to Mara Simba Lodge; lunch and afternoon game drive
Day 4: overnight Mara Simba Lodge, photography
Day 5: overnight Mara Simba Lodge, photography
Day 6: overnight Mara Simba Lodge, photography
Day 7: overnight Mara Simba Lodge, photography
Day 8: morning game drive, then transfer to Nairobi, arrival late afternoon
What is included?
transfer on day 1 from the airport to the hotel
2 nights in Nairobi Progressive Pwrk Hotel (bed & breakfast)
transfer to and from the Masai Mara (about 275 km one way) with our own cars
5 nights accommodation at Mara Simba Lodge (full board)
all game drives with our own private cars (max 3 clients per car) and each with a qualified guide and photographer
entrance fee Nairobi National Park and Masai Mara (conservation levy; subject to price changes)
all meals (except lunch and dinner on day 1 (air travel) and 2 (Nairobi)  and lunch and dinner on day 8)
coffee, tea and water
What's not included?
your flight to and from Kenya
visa costs (currently $51, available online from the official website of the Kenyan government)
any travel vaccinations and personal travel insurance
soft drinks and alcoholic drinks
tip and souvenirs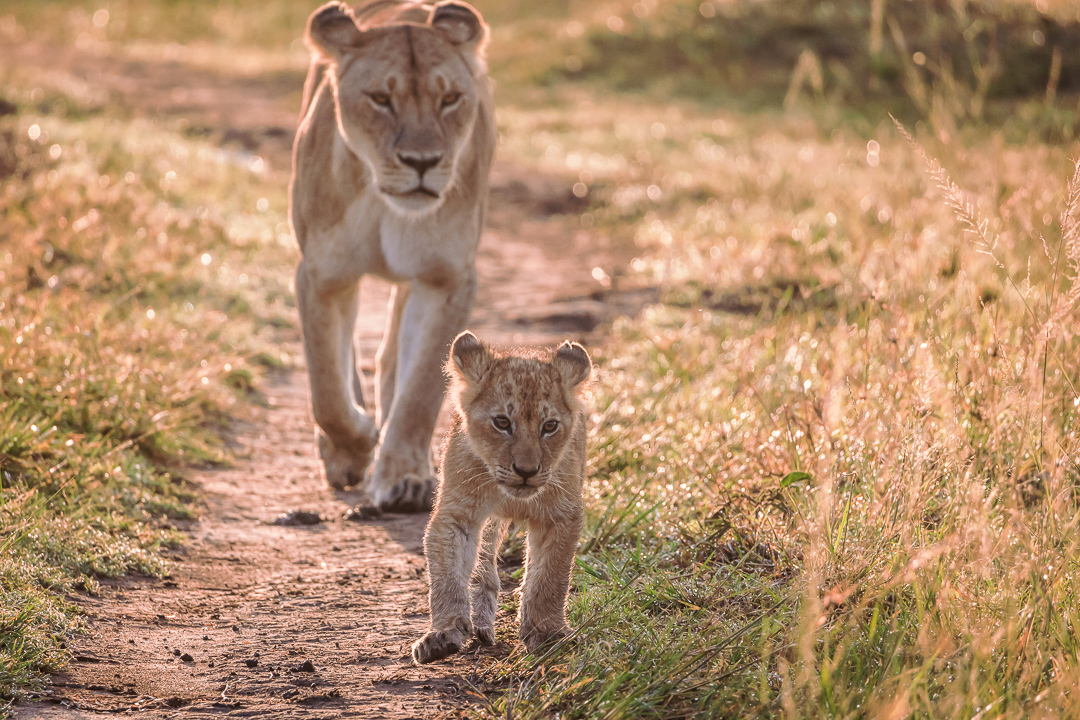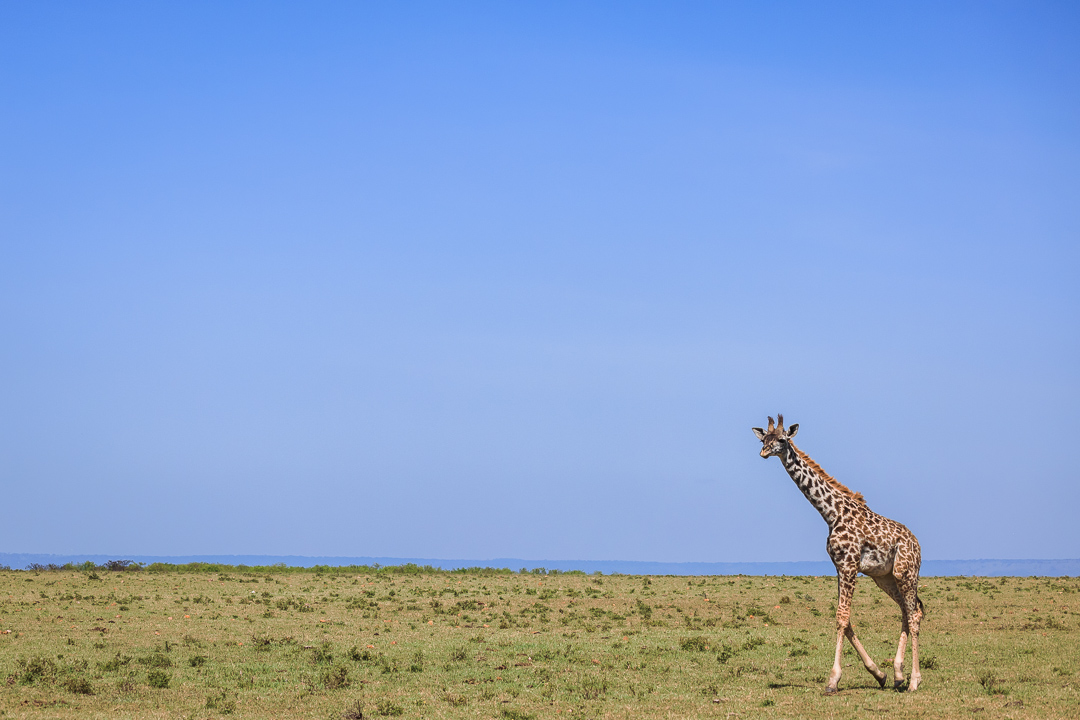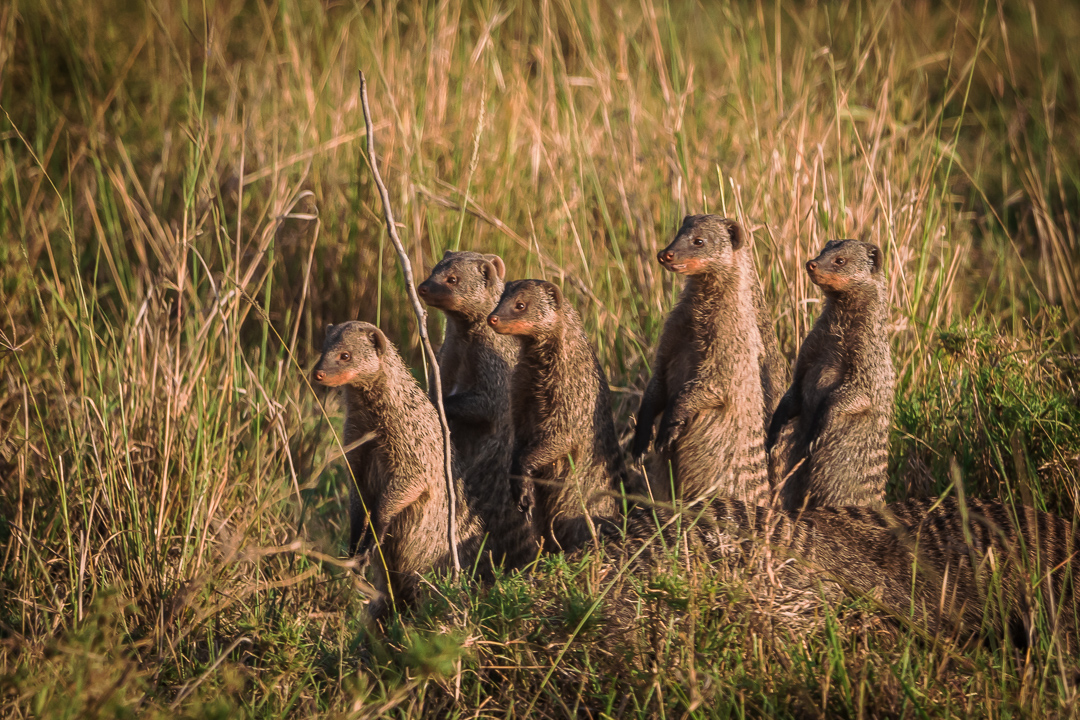 Bookings
You book directly with WOW Safaris. The first deposit must be received within six weeks of booking to secure your seat. The remaining part must be paid 90 days before the start. You are expected to arrange your own travel and cancellation insurance. The trip will take place with three or six participants.
A safari is a special trip and we offer you the opportunity to go on a very exclusive photo trip in Kenya. You certainly won't be disappointed. Don't think too long, just go with it, fill in that booking form!
If you have any questions, please feel free to contact me via the general form, DM/PM on Insta/Facebook or Whatsapp me on +31 (6) 55121414.